Regularly post interesting content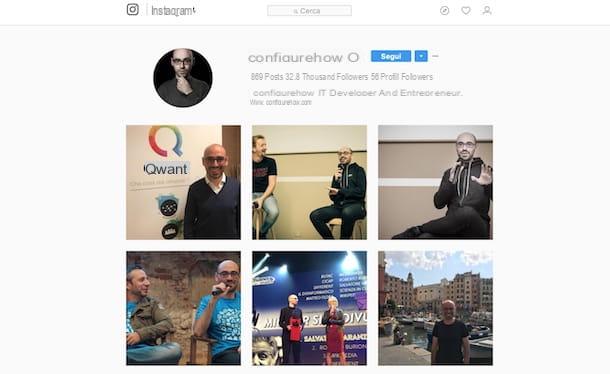 Regularly post interesting content is the first step to take a successful path on Instagram. Posting regularly triggers a mental mechanism in your followers (current and future) who are prompted to visit your profile regularly to see what interesting images you have recently posted.
To regularity, you must also combine the quality of the images and content you decide to post. The Instagram community really appreciates the quality photos and, for this reason, avoid posting images that have chromatic aberrations or other rather pronounced defects. If you decide to post a photo that portrays yourself, also, make sure it meets the quality standards required by Instagram users by reading my tutorial in which I explain how to look good in photos.
Would you like to post a photo that isn't quite perfect but that, in your opinion, your audience might like? If so, try to mask the flaws in the content in question by using one or more filters. Scroll through the various filters available and, as soon as you have found the one that "fits" best to your photo, apply it and post the image on your profile. However, do not overdo it too much with the application of filters or you risk to "tire" your followers. If an image has no particular flaws and is beautiful as it is, post it without filters using the hashtag #nofilter.
If you want to have more info and details on how the filters work, read the guide in which I explain in detail how Instagram works. I am sure you will find this reading very useful as well.

Take a cue from popular Instagram content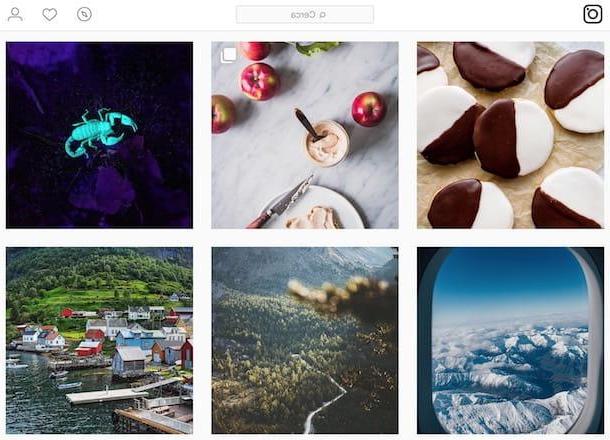 Take a cue from popular Instagram content is another great way to get more followers on this social network. If you take a cue from users who are already popular, you will be able to learn in a short time what are the trending issues to be treated on this platform, how to deal with your audience and so on.
To take a peek at the content of the most followed users on Instagram, start the social network app on your mobile device, press the symbol of magnifying glass and scroll through the list of the most viewed content by the community. If you want to do this from your computer, connect to the Instagram website by logging into your account and clicking on the icon compass to access the "Explore" section of the social network.
A "third party" tool you can use to analyze Instagram's most popular content is Iconosquare, a paid online service that can help you find interesting content based on the categories of your interest and that can even allow you to view some statistics related to your Instagram profile.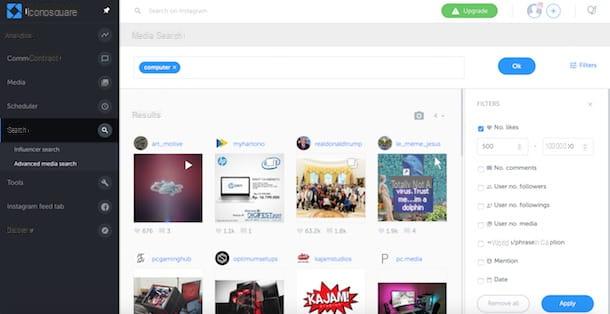 Iconosquare coast $ 9 / month, but you can use it for free for a full 14 days. At the end of the free trial, you can decide in total freedom whether to upgrade, and then subscribe, or not. If you decide to subscribe to this service, you will be able to search for the most popular Instagram contents by filtering the search results based on the number of likes, comments and shares of the images and based on the topic category they represent. By doing this you will be able to study the techniques used by the most followed influencers on Instagram to achieve success within the platform. Not bad, right?

Fare buon use degli hashtag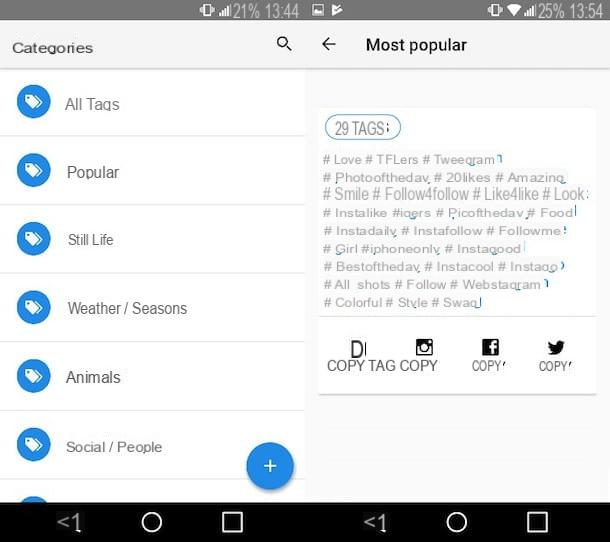 Fare buon use degli hashtag it is essential to try to take the road to success on Instagram. If you are subscribed to Instagram surely you already know what a hashtag is ... it is a word or phrase (usually in English) that is preceded by the hashtag symbol (#). But have you ever wondered what a hashtag actually is for? No, here it is! But don't worry, I'll explain it to you.
Hashtags have the task of labeling content (which is why some also call them "labels") so that when a user searches for a certain topic on Instagram, they can view relevant content based on the hashtags that characterize them. As you can well understand, therefore, the role of hashtags is very important! But how can you make sure that you are using the most relevant hashtags for your content and, at the same time, the most popular ones?
Also in this case you can use some third-party services, such as Internet sites Top Hashtag e Websta, which can be used free of charge and without registration. You can find the most popular hashtags using some free applications like HashTags for Instagram for Android and Top Tags, which is available for both Android and iOS. If you want to have more details on how these apps work to increase followers on Instagram, I suggest you read the tutorial I dedicated to the topic.
When it comes to hashtags, remember to use not only the most popular ones, but also the ones most relevant to the content you post. If you use hashtags that are not relevant to the topics you deal with on Instagram with the aim of always wanting to appear in search results, users will notice it and stop following your updates. So, be thrifty in using "labels".

Connect other social profiles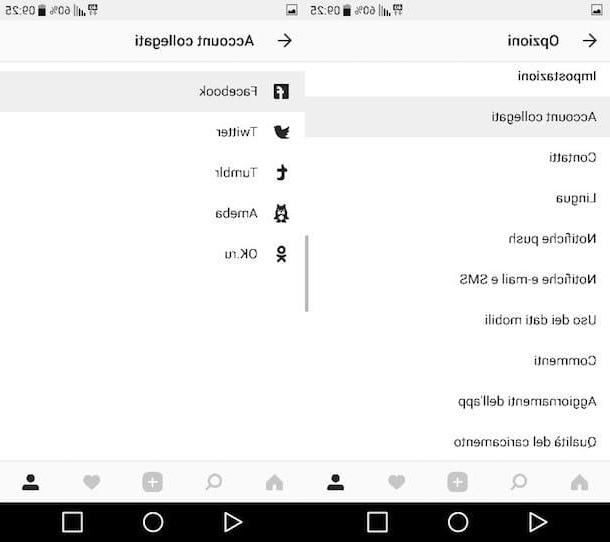 Connect other social profiles to your Instagram account is very important if you want to expand your audience. By doing this, you will be able to share the photos you post on Instagram also on the other social networks you are subscribed to, Facebook in the first place. This way a larger number of people will see your content and, therefore, could add themselves to your followers.
What do you need to do to link your social profiles to your Instagram account? Simple, start the app Instagram, fai tap sull'icona dell 'little man located in the lower part of the display, presses the symbol (...) to have access to options, scroll the screen you see and select the item Linked accounts che trovi sotto the dicitura Settings. Subsequently, all you have to do is click on the icon of social networks you want to connect to your Instagram account and follow the instructions you see on the display.
Once the configuration is complete, the photos you will post on Instagram will be shared automatically on all the social profiles connected to your account (provided that you keep the special option available when publishing the shots). Very convenient as a solution, right? And if the options included "standard" in Instagram don't satisfy you, you can activate other options for publishing and automatically syncing content between Instagram and other online platforms using IFTTT.

Interact with other users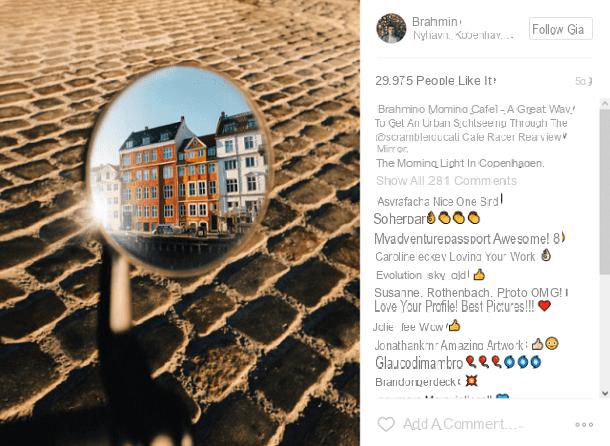 Interact with other users it is of vital importance on any self-respecting social network, including Instagram. Obviously, to interact it is not enough to put likes left and right, you need to do more: communicate, talk with other users, comment on trending posts, express your opinions on a certain topic and create constructive discussions.
In doing this, however, try to respect whoever is on the other side of the screen. Don't be a hater: there are already too many around the web! Rather, try to follow the tips I am about to give you that may be particularly useful for improving your reputation on Instagram.
Comment to ask for advice on how to be more successful on Instagram - by doing this you can achieve a double goal: users will appreciate you for your humility and, above all, you will be able to learn some "tricks" from users who perhaps have more experience with this social network.
Create constructive discussions - by making intelligent comments you can stand out from the crowd and get noticed by other users who are part of the community (and who, perhaps, could be pushed to become your followers!).
Never say things you wouldn't say in real life - who knows why, when you are behind a keyboard you think you are "untouchable" and can say what you want. The key to not falling into this mistake is to behave with others just like you would in real life.
Don't use bad language to impress others - if you did that, you would not only violate Instagram's terms of use (with the risk of being banned), but you would also be seen as rude. So avoid using bad words and offensive terms.
Use Live Live correctly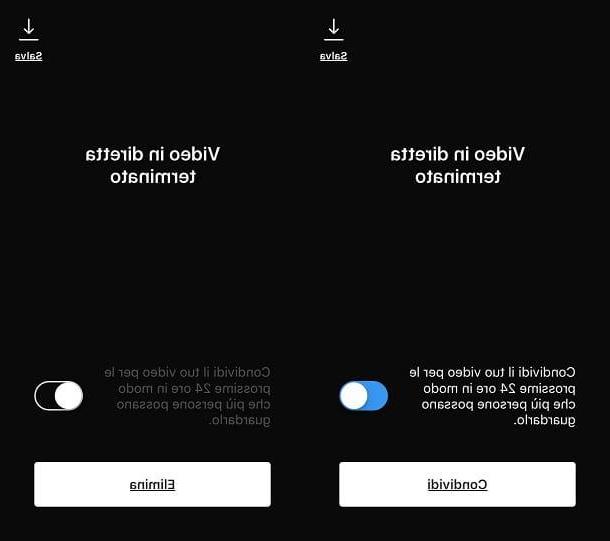 Use Live Live correctly is another excellent "gimmick" you can use for have lots of followers on Instagram. Users love to follow other people's streams as long as they are interesting and engaging, so use Live the right way!
In doing Live on Instagram, choose the right place to shoot your live. The ideal is to find a fairly quiet place, not too crowded and / or noisy. In this way the users who watch the broadcast will be able to understand what you say and what is the topic you are dealing with.
If you are short of ideas and do not know which topics to cover during Live, take advantage of the opportunity to interact in real time with your audience and ask which topics are of interest to them and, among the proposed topics, choose the one you know the most and that you think will benefit the "health" of your Instagram profile.
To try to get new followers, it is critically important that you share the live as soon as the transmission is completed. By doing so, you will give the possibility to view it (for the next 24 hours) to those who have not been able to watch it in streaming.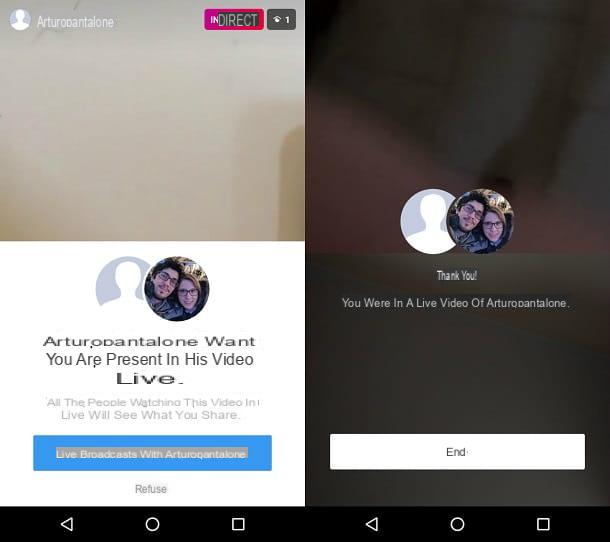 A great way to get noticed on Instagram is also to make a live sharing with a friend and follower. Contact one of your most "loyal" followers privately and let them know about this new Instagram feature. Get him involved by asking him to join your next live stream; you will see that he will be thrilled.
If you want to have more details on how to do Live on Instagram and how to use this new feature of shared direct, all you have to do is read the article I wrote specifically for you on this topic. I am sure you will appreciate this reading very much too.

Avoid using apps to buy followers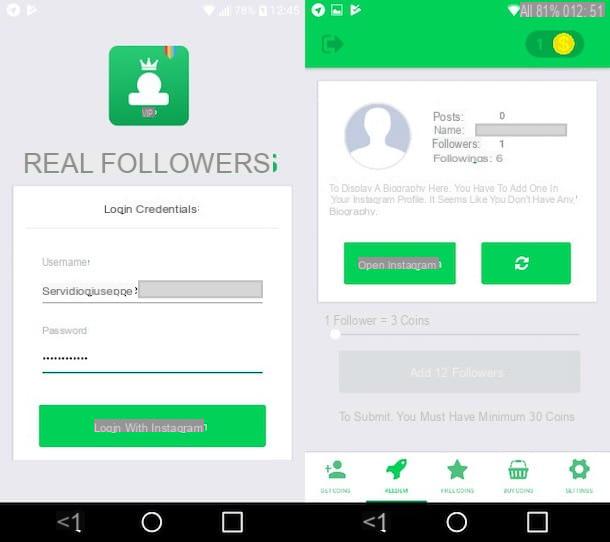 Many people, failing to increase the number of their followers on Instagram, resort to some decidedly unethical means: they buy follower packages through some apps that promise to get easy success on Instagram. Would you also like to adopt similar solutions? The advice I give you dispassionately is to avoid using apps to buy followers, for at least a couple of reasons. Which? I'll tell you right away.
The first reason is that in order to get new followers you yourself have to become someone else's follower or, in other cases, you have to buy follower packs (in virtual or sometimes real coins). The second reason is that it is not said that the followers you will get will always remain so. Indeed, very often it happens that after having artificially obtained a hundred followers in a few weeks, they stop following your profile within a few days!
Therefore, if you want to have lots of followers on Instagram, avoid these rude tricks and apply the tips I gave you in this article and in other similar posts, such as the one on how to increase your visibility on Instagram. I am convinced that, with the passing of the months, you will achieve greater success on the photographic social network!
How to have lots of followers on Instagram