How to get famous people to reply on Instagram
How to get Instagram stories answered
How to get a guy or a girl to reply on Instagram
If you are wondering how to get answered on Instagram, I guess you would like to get in touch with a boy or girl you met through the famous photo social network. In this regard, I advise you to continue reading and to implement my advice, which I hope will help you to create a friendly interaction with the person you are interested in.
Follow the profile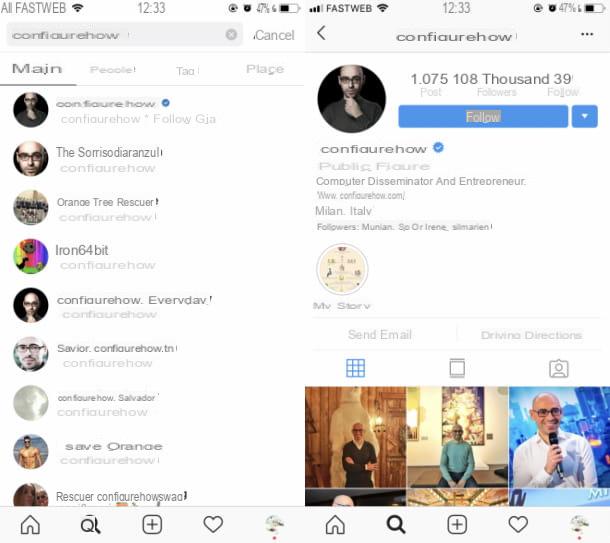 The first step you need to take to get the attention of the guy or girl you're interested in is to start following this person on Instagram, so you can always keep an eye on the content it publishes and interact with it (in a polite and not obsessive way, mind you).
To get started, then, launch the Instagram that you must have previously downloaded to your device Android (from the Play Store or via alternative stores) or on your own iPhone (from the App Store) and log in to your account. Alternatively, if you prefer to act as a PC, you can log in to Instagram via its official website.
Once this is done, locate the user of your interest by typing his name in the Instagram search engine (theicon of the lens of ingrandimento in the app or search bar in the web version). Once you have identified your profile, click on the button Follow, in order to view all the content it publishes in the Feed and in Stories. By doing so, it will be easier to interact with them, as I will explain shortly.
Interact with the stories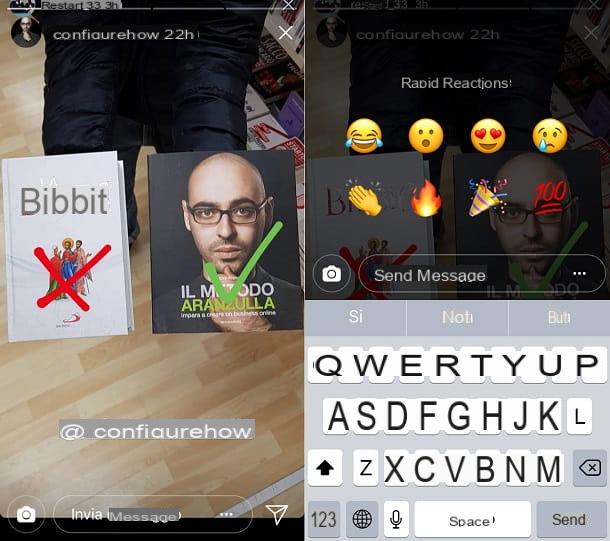 As anticipated, a first method that you can implement to attract a person's attention - and make him respond to your messages - is certainly to interact with the content he publishes.
Starting with the stories, you must know that these contents can be seen both through the social network app and from a computer, by connecting to the official Instagram site.
In both cases, to view them, log in to your account and refer to the section above dedicated to Stories (it is the one that is characterized by the succession of round icons depicting the profile pictures of the users you follow). At this point, locate the story published by the person of your interest, scrolling through those that will be shown to you and press (or click) on it to view it.
I remind you that you can also see the stories published by a user even directly by going to his profile. In this regard, you should know that every time the user in question publishes a new story, the thumbnail of his profile will be characterized by a red border.
In addition to viewing a story, it is also important to interact with it. For example, you can use the text field Send a message, to write a response to the story (try to be original and / or give interesting discussion points on the topic of the story, if you want to increase the chances of receiving an answer), or use one of the smileys that are shown to you, to send one quick reaction, in order to quickly and easily attract the user's attention.
Comment on posts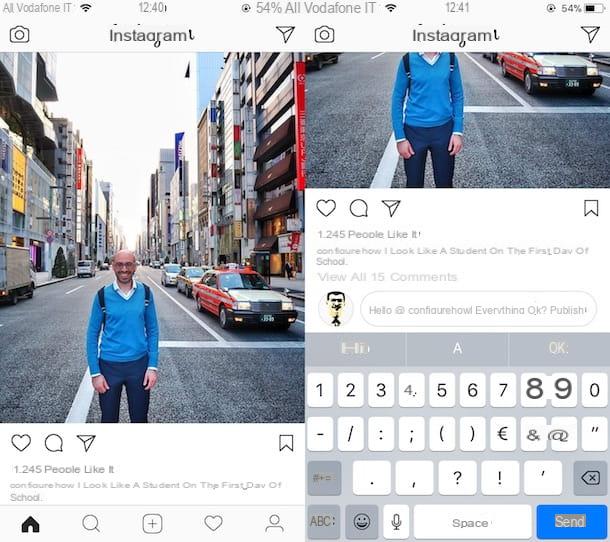 Another solution to get noticed and entice a person to reply to the messages sent is undoubtedly to comment on his own post. This is a less "invasive" method of contacting a boy or girl, compared to sending a private message, especially if there is not much confidence between you yet.
To comment a post su Instagram, all you have to do is access your account through the social network app or by connecting to its official website.
After that, locate the post published by the person of your interest, press onfumetto icon and type, in the text field that is shown to you, the comment you want to publish. Finally, click on the button Send, to send it. Again, try to be original and / or provide interesting discussion points, in order to involve other commentators as well and get noticed by the author of the content.
Send a private message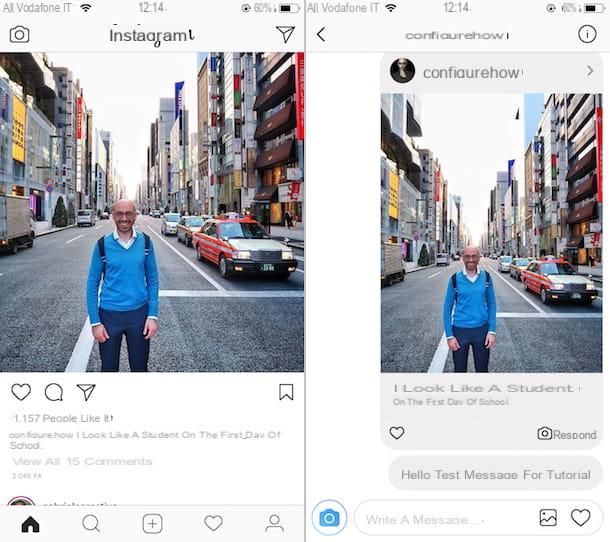 If you are more familiar with the boy or girl of your interest, you can write him a private message: if you know each other and if you are already on good terms, it is possible that he will answer you.
To get started, log in to Instagram via the photo social network app or connect to its official website. In both cases, press onairplane icon, which is located in the upper right corner.
Now, in the menu that is shown to you, press onpaper sheet pencil icon and, in the next text field, type the name of the person with whom you want to get in touch, to open the dedicated private chat.
At this point, type the message text in the text field below and press the button Submit, to send it.
How to get famous people to reply on Instagram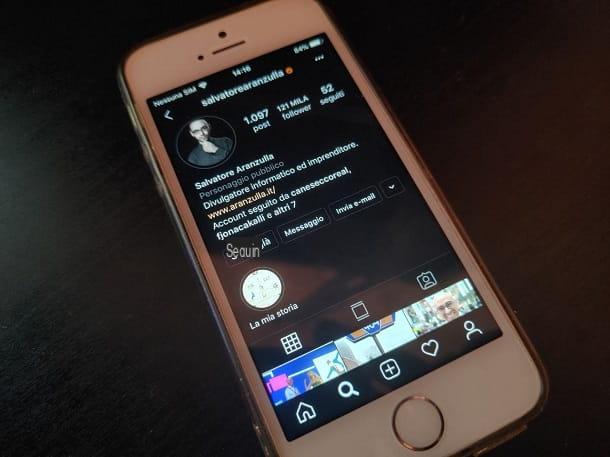 Is the person you would like to answer you a famous person? The indications and advice I gave you in the previous chapter of this tutorial are certainly valid, as these are operations that can be carried out to attract the attention of any user.
Start, then, following the user in question, by pressing the button Follow, in order to consequently always have an eye on the contents it publishes.
As for the interaction methods I told you earlier, starting with storiesIn this case, it is essential that you interact with the story tools dedicated to user involvement, such as the box questions or the one named survey, to stand out from others and have a better chance of getting an answer.
You can also tag the famous person in yours stories di Instagram (typing @ followed by his username), to get his attention more and hope for his response.
As regards the Commentsinstead, given the amount of comments probably present under his posts, I suggest you think carefully about the text of the message to be published. In fact, try to write a really interesting comment: in this way, he could receive several "likes" and, therefore, have a better chance of being noticed by the "VIP" in question.
Speaking, instead, of the private messages, you have to take into account that, in this specific case, it is clearly difficult to get an answer. Usually, in fact, people who have a lot of followers on Instagram they receive a lot of private messages and it is rather unlikely that they will all read them. It is therefore very difficult for you to get your answer on Instagram to private messages, in the case of a very famous person.
How to get Instagram stories answered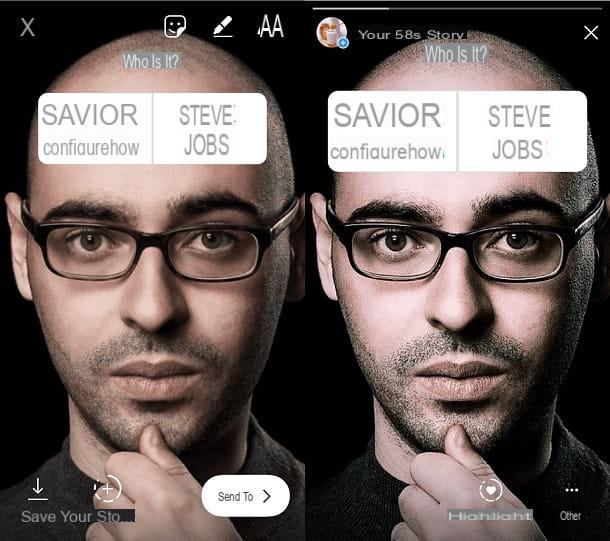 You would like to make people respond to yours stories su Instagram? In this case, know that it is easy to do so, as it is enough to use the tools of the stories that entice users to interact.
To get started, then, start the photo social network app and log in to your account. Then, on the main screen, press oncamera icon and start creating a story, by recording a video or taking a photo, via the pulsating dell'otturatore.
Now, press onsquare emoticon icon located in the upper right corner and, in the menu that is shown to you, use one of the interaction tools present: the sticker survey, for example, it allows you to ask a question to your followers, who will have to tap on one of the two choices present.
Using the adhesive questionsInstead, you can ask an open-ended question or ask your followers to ask you one. Alternatively, by pressing on themusic note icon, you can get a song suggestion, among the music tracks in the Instagram library.
Instead, to start a challenge, use the button challenge, in order to start one of the challenges that are proposed to you and appoint a person to follow him, through the tag (the'snail icon followed by username of the person to be challenged).
Additional interaction options are those offered by the sticker let's chat, thanks to which you can invite your followers to send you a private message. Besides, you can also kick off quiz multiple choice or set a countdown, using the appropriate stickers. Finally, through the slider, you can ask users to interact by moving a customizable slider.
At the end of the creation of the story, you just have to publish it by pressing the button The tua storia and wait for interactions. Easy, right?
How to get answered on Instagram