See the views on Instagram
Preliminary operation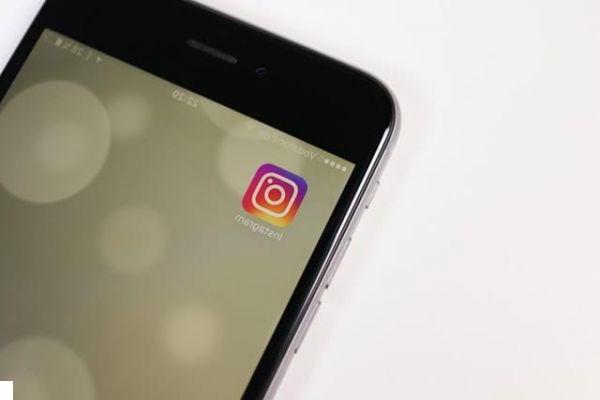 Before going into the highlight of this tutorial, it is good to point out that on Instagram, if you have a "standard" profile, it is not possible to see the statistics of your account. Statistics are only accessible by those with an account.
As I mentioned earlier, to make your account go from "personal" to "corporate", it is essential to create a Facebook page . and then connect it to your Instagram account. By converting your personal Instagram account into a business-type account, in fact, not only will you be able to see some useful statistics regarding the profile - number of views, amount of interactions with the videos and photos you post, number of comments and likes left by followers , etc. -, but you can even sponsor certain posts and indicate an e-mail address to be contacted by your customers or potential advertising investors. Surely these tools could also come in handy if you decide to use Instagram for professional use.
That said, let's take action right away! In the next few lines I will guide you in creating a Facebook page and linking it to your Instagram account in order to turn your personal account into a business account. You will see, it will be child's play!

Create a Facebook page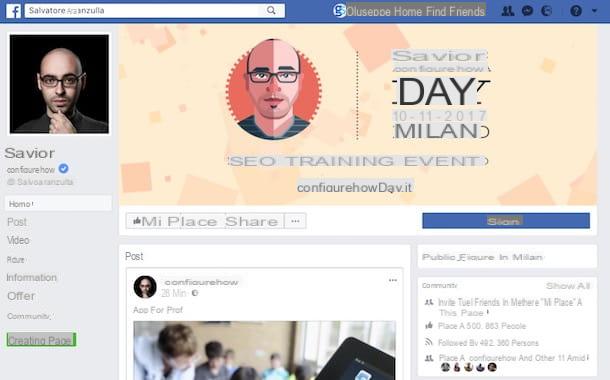 Create a Facebook page is the first step towards the "metamorphosis" of your Instagram account from private to corporate. Creating a Facebook page is a very simple operation to do, especially if you follow the "tips" that I will give you in the next paragraphs. Ah… I almost forgot! If you already have a Facebook page, you can also "skip" reading this chapter and go directly to the next one where I explain how to connect a Facebook page to your Instagram account.
If you want to create a Facebook page, the advice I give you is to do it using your PC. In this way it will be more "comfortable" for you to follow the directions I am about to give you. That said, connect to the Facebook login page and type theemail or yours telephone number and Password of your account and click on the button Log in to login.
As soon as you have logged into your Facebook account, click on the symbol of arrow pointing down located on the blue bar at the top (near the "?" symbol) and, in the drop-down menu that appears, click on the item Create a page.
Next, choose the category you want your page to belong to by clicking on one of the available options: Local business or place, if your page represents a physical business or a place; Company, organization or institution, if you want your page to represent a company or organization; Brand or product, if you want your page to represent a brand, a website, a blog, etc; Artist, band or public figure, if you are a public figure or artist and you want your page to represent you as such; Entertainment, if you want your Facebook page to be related to an entertainment product or Cause or community, if you want your page to represent a cause or a community.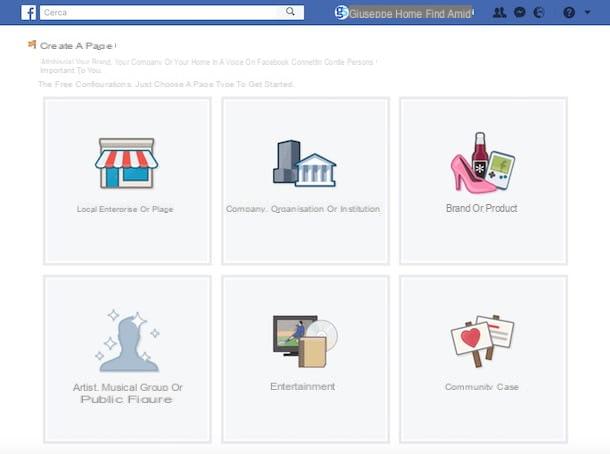 After choosing the main topic that will be covered on your page, you will be asked to choose a sub-category as well. To do this, click on the drop-down menu Choose a category and select one of the available options; then choose the name to assign to your page and start the wizard of the same by clicking on the blue button Start.
At this point, all you have to do is continue to follow the wizard and the instructions that appear on the screen to add aprofile picture to your page and all the various information concerning it. If you prefer, you can also skip these steps and add that additional information later.
If during the wizard you encounter any doubts, do not hesitate to read the tutorial in which I will explain in detail how to create a Facebook page.

Connect a Facebook page to Instagram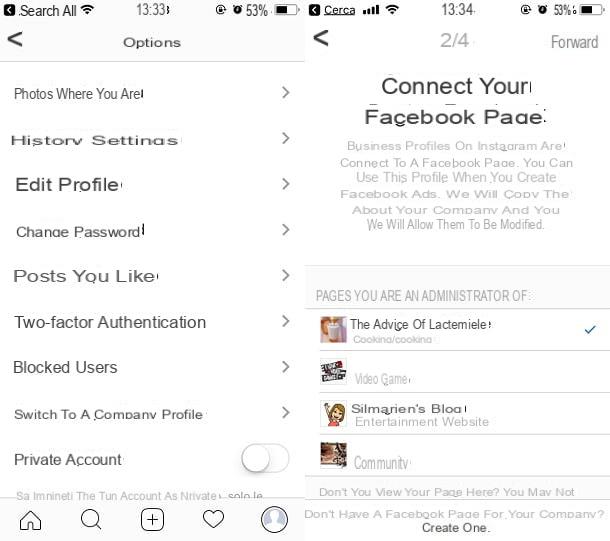 Now that you have created your new Facebook page, all you have to do is connect it to your Instagram account to change your private account to corporate in order to monitor the views of your various posts.
Connect a Facebook page to your Instagram account is the second preliminary operation that you must perform in order to monitor the views on the photographic social network. In this case, you have to act directly from your smartphone or tablet through the official Instagram app available on Android, iOS and Windows 10 Mobile.
If you haven't already, download theInstagram app on your device using the links I have provided and, after starting it, log in by entering your access credentials in the appropriate fields.
Once logged in, tap on thelittle man located at the bottom right and, in the screen that opens, tap on the symbol (...) if you are using the app on an Android device or on thegear if you are using the app on an iPhone to access the options of Instagram.
Then press on the option Switch to a company profile which is located under the heading Account and follow the guided procedure through which you can change your profile from "private" to "corporate". I already anticipate that it will be enough to press the button four times Continue and press on the voice Choose Page in the screen that appears.
Now all you have to do is select the Facebook page you want to connect to your Instagram account, follow the instructions that appear on the screen and tap on the options Next> Finish.

See the views on Instagram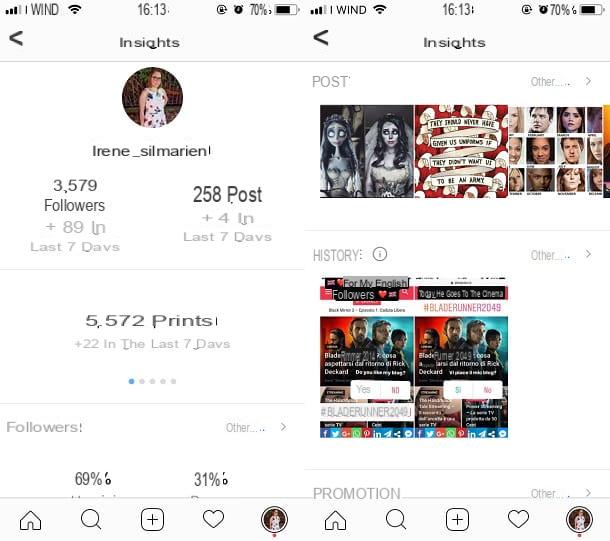 As soon as your Facebook page is connected to Instagram, you will be able to enjoy all the benefits deriving from having a company account, first of all the possibility of checking the views and statistics regarding the content you post on this social network. You can see the general statistics of your profile by tapping on the symbol graphic which is placed on your profile screen.
To view, instead, the statistics regarding a particular content, you must post a new content on your profile and wait for the post to be displayed to start monitoring the first statistics contained in the tool. Insight.
After publishing a photo or video and after waiting some time for it to be viewed by the Instagram community, presses on the video you published on your profile screen and, in correspondence with the item Promote, pigia sull'opzione View Insight data to access the screen containing all the statistics relating to the content you are monitoring.
As you can see, the data provided by the Instagram Insight tool are many: the number of likes obtained from each post, information that can help you understand which content topology your followers like; the number of comments, thanks to which you can understand if a content has been able to provoke a discussion, the number of times that a content has been viewed through the impressions; there coverage, a useful figure to understand the number of unique users who have seen a given post and even how many times a piece of content has been saved.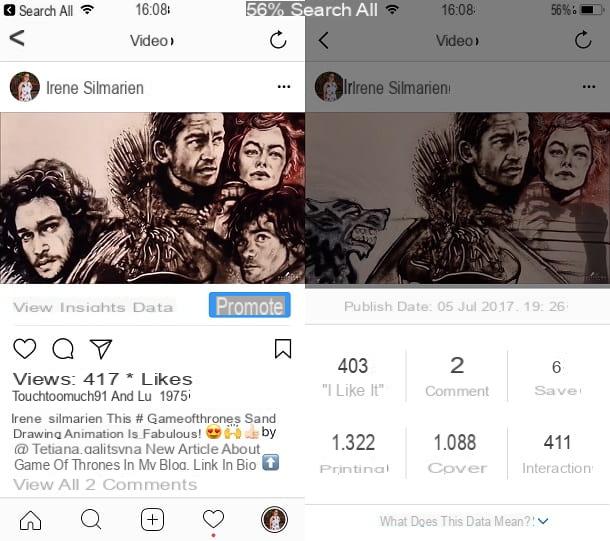 I am sure that by analyzing the statistics from your Instagram account, you will be able to understand how you can further expand your audience and continue on the road to success on Instagram!
Your account statistics Instagram they can also be analyzed from a PC, by logging in to the Facebook-owned tool called Creator Studio which, in section Statistics, allows you to view the statistics relating to the corporate Instagram account connected to a Facebook page.
How to see views on Instagram