Post interesting content on a regular basis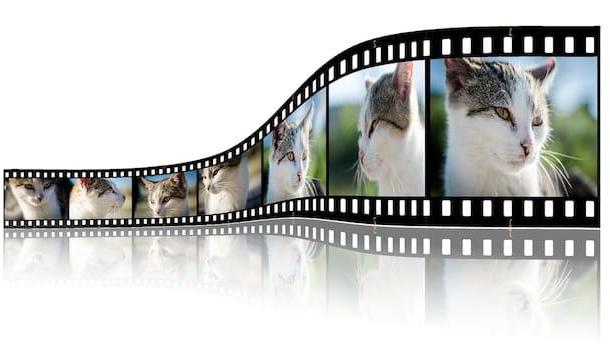 Regularity is important on any social network, including Instagram. Therefore, if you want to try to be successful, you must publish quality images and videos with a certain frequency. If you post one-off content, you are unlikely to build a good following. Aim to publish at least 1 or 2 photos a day: in a year you will have published about 300 to 600 contents!
In addition to regularity, it is also important that your shots satisfy certain ones quality standards: on Instagram, users really appreciate well-curated content and, for this reason, you would do well to post photos worthy of being defined as such if you want to be followed by a growing number of people. In short: on Instagram there is no place for photos characterized by particularly marked defects, so try to publish only quality shots. For example, if you've taken 6 or 7 photos of your cat, don't post them all: carefully consider which shot is the best and post only that one. If you are not very good at taking pictures, read the article I have prepared especially for you in which I explain what are some basic rules to follow to take quality photos.
Also, after taking a picture and choosing the best shot, use one of the many filters available in the app to beautify the image you are going to publish. It is precisely the filters that have made Instagram popular, indicating that users love this particular tool. The advice I give you is to try various filters on each content you want to publish: in this way you can check with your own eyes which is what allows you to get the best result.
However, do not overdo it too much with the application of filters or your photos will be too "fake". Users also appreciate "nature" photos, of course only if they are presentable. To post a beautiful photo as it is, use the hashtag #nofilter not to apply any filter. For more information on how to apply filters to your shots, read the article in which I explain in detail how Instagram works. You will find all the information you need.

Get a cue from popular content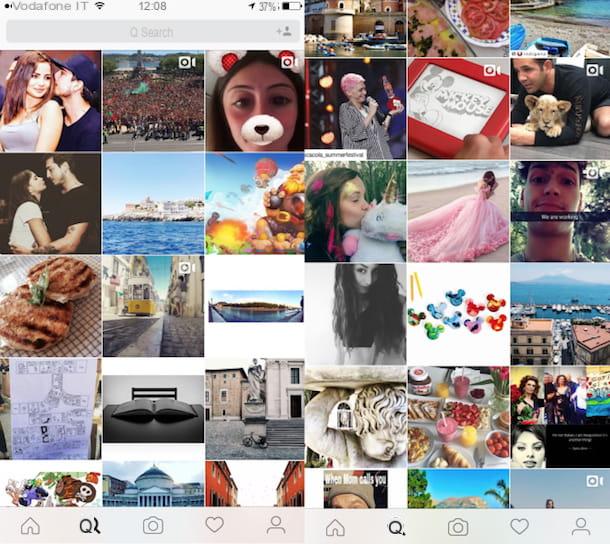 What if you suddenly have a "creative block"? How will you ensure that your followers are always fresh, interesting and of quality content? Simple, taking a cue from popular content present on Instagram.
You can do this by simply launching the app Instagram on your smartphone, by pressing the symbol of magnifying glass located at the bottom left and browsing the list of photos most viewed by the community. I'm sure you will be able to find some great ideas that will bring the right inspiration back to you. You can also do the same thing from your PC, by connecting to the Instagram website, logging in with your personal account and clicking on the compass which is located at the top right.
If the "Discover" section of Instagram is not enough, you can use the service Iconosquare which not only allows you to view the most popular images on the social network, but also to manage your profile by viewing statistics and other useful information. Before explaining how to use this excellent tool, however, it is my duty to make you a premise: you can use Iconosquare for free only for 14 days, after which you will have to take out a subscription that starts at 9 dollars / month to continue using it. For more information on the various subscription methods available, click here. At the end of the trial you will be free to decide whether to subscribe or not.
After connecting to the Iconosquare home page, click on the green button Start a free trial to start trying the trial of this service and, on the page that appears, create your account by entering, in the appropriate fields, the various data that are requested of you. Then affix the checkmark next to the item I accept Terms and Conditions and continue by clicking on the button Next.
Now it's time to link your Instagram account to your Iconosquare account. On the page that appears on the screen, click on the symbol capacitor positive (+) lead, log in to the Instagram account you want to connect by entering your login credentials in the appropriate forms and grant Iconosquare permission to access the basic information of your profile (by clicking on the green button Authorize). In the new page that opens, you can connect, if you want, also another Instagram account by always clicking on the symbol capacitor positive (+) lead and repeating the operations I have just described to you. To start using the service, however, all you have to do is click on the button Start using Iconosquare and follow the instructions you find in the next lines.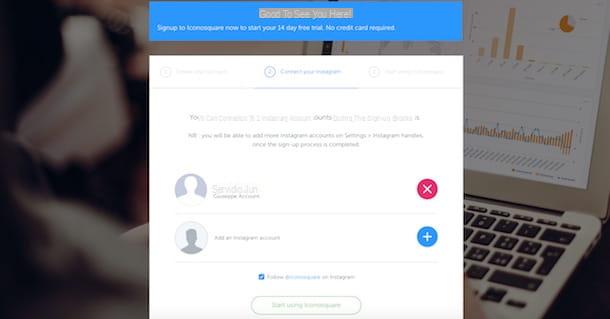 When you log in, you will find written (in English) that Iconosquare could take up to an hour to retrieve all the information from your Instagram account, so arm yourself with patience! In the meantime you can read one of the articles (in English) that are suggested to you by clicking on it. As soon as Iconosquare has finished retrieving all your info, click on the button OK that you see on the screen to start using the service.
At this point, clicca sulla voce Search (in the left side menu), click on the item Advanced media search and, in the box you see on the screen, enter the hashtags in the field Enter your hashtag(s), filter the search results by choosing (in the right side menu) the number of likes, comments, shares, etc. of the images you are looking for and confirm everything by clicking on the button OK. In this way, you can choose content similar to those you usually post (thanks to the inclusion of hashtags), displaying, however, only those that have achieved the most success on Instagram.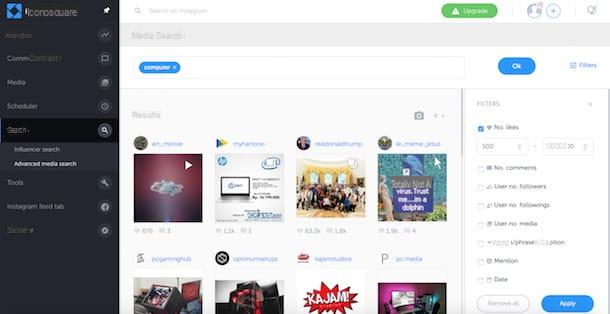 I recommend, try to be inspired by the trending images you see and you will see that by imitating the most followed "Instagrammers" you too will be able to achieve a little more success.
Obviously, if you want to continue using Iconosquare even after the trial, you must proceed with the subscription. To do this, click on the green button Upgrade (above), choose one of the available plans and follow the on-screen instructions to enter your billing information and add a valid payment method to subscribe.

Use the right hashtags

To be followed on Instagram is of paramount importance use the right hashtags. How do you say? Don't even know what a hashtag is? Well, in a nutshell it is a sort of label marked with the symbol "#"And followed by a password or from one phrase (usually in English). If you frequent Instagram it is unlikely that you have never seen a hashtag!
What exactly are hashtags used for? In a nutshell, they are used to categorize the contents that are posted on Instagram with the aim of making them appear in the search results: now you understand why it is important to use the right hashtags, right? Since users search for a bunch of content on Instagram starting from hashtags, if you use the right ones you can increase your chances of becoming popular on this platform!
When using hashtags you have to take into account a couple of factors: the content you are sharing and yours public. Do not use hashtags that are not relevant to the photo you are posting, otherwise you risk losing credibility among Instagram users. In choosing the "labels" to assign to your photos, however, try to use popular hashtags, as well as relevant. How can you do this? Using some specific tools, such as those made available by websites Top Hashtag e All hashtag, which can also be used without registering and which allow you to know which hashtags are the most popular at any given time. If you want to do this directly from your smartphone or tablet, download the app instead Tag for Likes available for free for both Android and iOS.
After identifying the most popular hashtags through one of the aforementioned resources, identify the ones that are best suited to your photo. For example, if you've posted a self-portrait of you and your friends at the seaside, the most relevant hashtags you can use are #selfie, #me, #summer e #friends. Please, remember to be "honest" and only insert hashtags that really have to do with the topic in the photo: your audience will appreciate it!

Connect your social profiles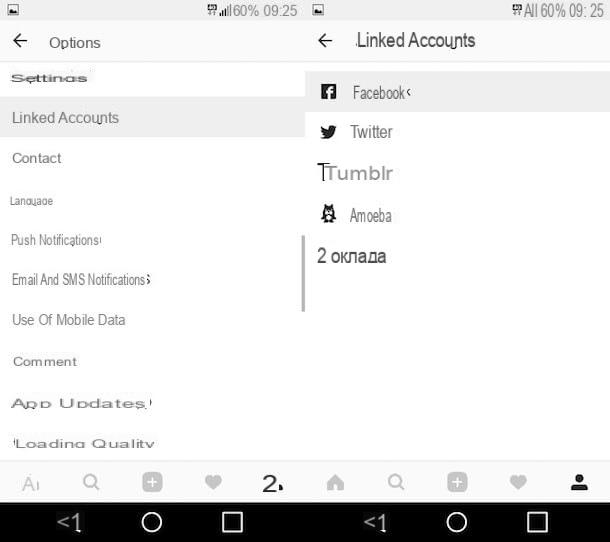 Another trick you can take to get yourself followed on Instagram is to connect your account to other social profiles, Facebook in the first place. If you do this, the content you share on Instagram will be shared simultaneously on Facebook and other linked accounts and, as a result, more people will view the photos you have posted and may be pushed to become your follower (assuming you have shared interesting content and followed the tips I've given you so far).
To link your profiles to your account, launch the app Instagram, presses on the symbol oflittle man (bottom right), tap on the symbol (...) per accesre alle options, scroll the screen you see and tap on the item Linked accounts which is located under the section Settings. In the screen that opens, tap on one of the social networks you want to connect and follow the instructions on the screen to complete the procedure.
Once you have connected your Instagram account to all your other social profiles, you can automatically share the content you post on the photo social network and thus try to increase your followers. Therefore, when you publish a new content, remember to activate the button related to the social network that you connected to your Instagram account and in a fully automatic way you will share a content on multiple accounts simultaneously! Is not it fantastic?

Interact with other users
Interact with other users is another great way to get followed on Instagram. If you are thinking that to do this it is enough to put a little like here and there, you are very wrong. Interacting means above all communicating, talking with users, in other words… commenting! If you just put "I like it"To a content, you will remain only one of the many users who have put the like; instead try to make smart comments and you will see that other users will appreciate them and, perhaps, will start following you.
You can use comments as a tool to communicate, ask for advice or ideas on the content to be published, create discussions on a certain topic, etc. Listen to me, avoid spamming your Instagram profile inviting the community to follow you. First of all, try to establish a relationship of trust with your potential followers and, after some time, you can possibly ask to follow you if they like to do so. But then again, don't "force" others to follow your account because you could really "annoy" the community.
Obviously avoid the use of swear words, dirty and / or allusive terms; you would automatically be labeled as rude and risk being banned for violating Instagram's terms of use. Also try to always be kind to everyone, even when some users might use provocative and / or offensive tones with you. Don't be a "keyboard lion" (there are already too many around!) Offending and / or criticizing others, but try to be as fair as possible (just like you would in real life). You will see, your behavior will not go unnoticed.

Make good use of Live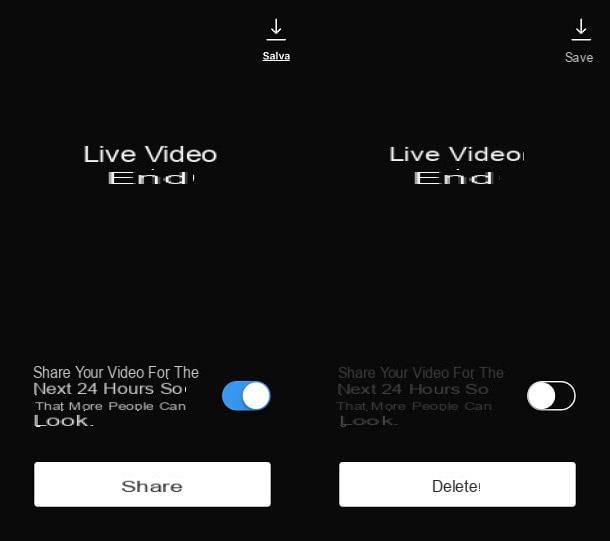 If you want to become popular on Instagram you can use another useful tool: le Live. In the next lines I will not explain how to do Live on Instagram, since I have already told you about it in a specific tutorial, but I will give you some "tips" on how to best use this tool as well.
First, choose the right location to do the direct: avoid places that are too crowded or noisy and favor the quieter and more reserved ones. Beyond that, look for a well lit place or you will risk making your live broadcast in the dark! Another trick you could take with regards to your Instagram Live is to take care of yours appearance, in such a way as to make a good impression on your followers.
Which themes can you deal during your live Instagram? Well, that partly depends on your audience. The advice I give you is to talk about interesting topics that really capture the interest of your followers (especially potential ones). Maybe you can ask your own viewers directly about the topics to be covered: there is no better way to know what your followers are interested in!
Once the live broadcast is over, remember to share it in such a way as to make it visible for the next 24 hours. By doing so, users who have not had the opportunity to view the live broadcast will be able to watch it calmly on a deferred basis.

Don't get followers artificially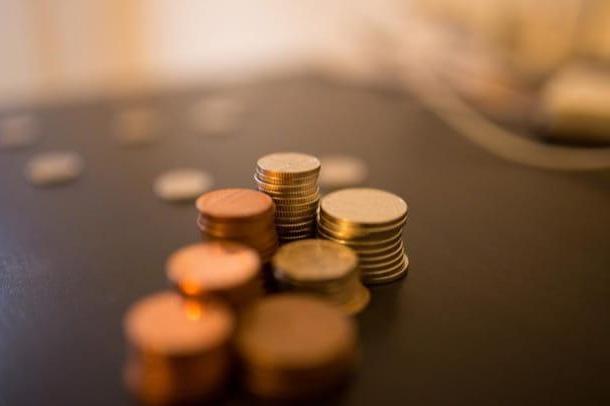 Many users, to "inflate" their Instagram profile, buy likes and followers from special services that literally sell packets of followers (very often these are fake accounts). If you too are tempted to take this "path" I give you a friend's advice: don't do it!
For what reason you shouldn't get followers artificially? For at least two reasons: 1) the services that promise to have many followers in a short time are not very reliable. In other words, you could "buy" a pack of followers and then find yourself with a handful of flies in your hand. 2) what is the use of having "fake" followers or in any case not interested in the content you post on Instagram? Nothing, that's right!
Some apps, on the other hand, allow you to exchange likes and followers. Basically, to get a new follower, you have to become someone else's follower. As you can guess, even this strategy is not particularly successful. If you really want to get new followers on Instagram, try to put into practice the advice I have given you in the rest of the tutorial and in other guides on the subject (for example the one on how to increase your visibility on Instagram) and avoid these gimmicks whose utility is an end in itself.
How to get followed on Instagram