Tips for success on Instagram
How to choose the username on Instagram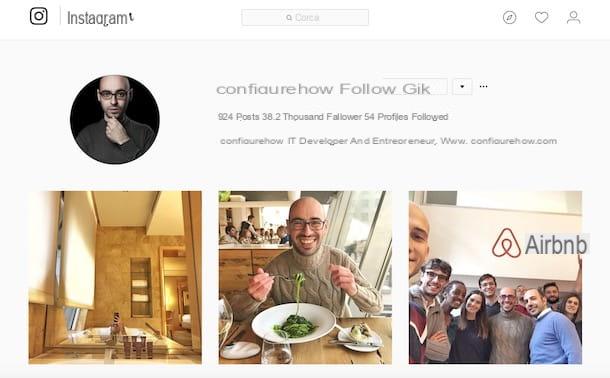 Choose a good username on Instagram it is the first step towards success on the well-known photographic social network, especially if you intend to use it for professional purposes. For this reason, before signing up for Instagram, carefully analyze the advice I am about to give you, in order to be sure to choose the username that best suits your needs.
First of all, I suggest you use a username that allows others to immediately understand who you are, what you do and - equally important - that it is easy to remember e original: in this way, users who view it can immediately get an idea of ​​who (or what) your profile represents and, if they are interested in the activities you carry out and / or the content you post on the social network, they may be more inclined to follow you.
Let's take a practical example: if you are a chef and you want to post on Instagram your dishes, to advertise your restaurant and attract new customers, your username may consist of you don't know, from your business name (hence the name of your restaurant) and yours profession (in your specific case the chef). By doing so, the Instagram community will associate the photos you post with your name and business. Below you will find a scheme that summarizes the possible usernames that can be used for the example I just gave you.
nomecognomechef.
_nomecognome_chef._
nomechef.
_nome_chef._
nomeristorantecittà.
_nomeristorante_città._
In addition, in choosing your username, I suggest you do not use more than 10-15 characters: a kilometer-long name may be a little too difficult to remember.
Beyond that, if you can, use the same username as your other social media profiles (as well as the profile photo itself): by doing so you can improve your business personal branding (you hate business branding, if you decide to use your business name) and you will be more likely to attract followers who already follow you on Facebook, Twitter and other social networks.
Finally, I suggest you do not enter numbers in the username: doing this may not facilitate the search for your Instagram profile.
How to generate names for Instagram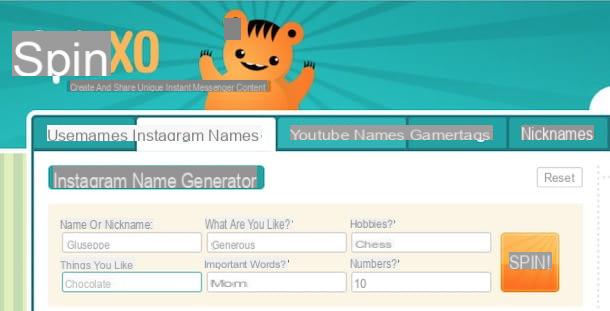 Since you don't have a lot of imagination, do you find it difficult to create a suitable username for your Instagram profile? Well, in that case you can solve your problem by using a automatic username generator, like the very famous SpinXO.
To use it, click on the link I gave you a moment ago and type the data requested in the text fields you see on the screen. Then enter your name in the field Name o Nickname; write an adjective that distinguishes you in the field What are you like?; type the name of one of your favorite pastimes in the field Hobbies?; type something you particularly like in the field Things you Like; write a word that is particularly important and meaningful to you in the field Important Words? and so on.
Next, click on the orange button Spin! and, as if by "magic", many usernames will be generated - 30 to be exact - based on the information you have previously indicated.
Now all you have to do is choose the one that suits you best and use it for your Instagram account (as long as it's available). If you are not thrilled by the usernames that have been generated, click on the button Reset and try to repeat the procedure using other terms: maybe some username you like will come out.
How to change username on Instagram
You already have an account Instagram but, after learning the "tips" I just provided you, would you like to change your username? No problem, you can succeed in this intent either by acting through the Instagram app available for Android or iOS devices, or by computer, by connecting to the Web version of Instagram or by using the Instagram application for Windows 10. Follow the instructions that I am to provide you, to succeed.
Give smartphone and tablet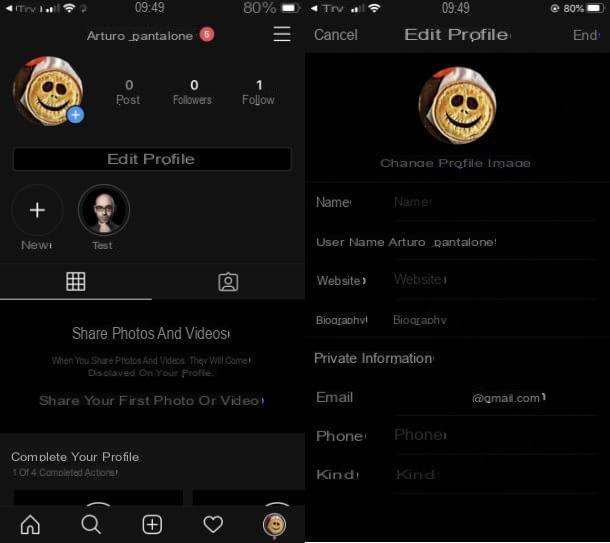 To change your Instagram username from mobile start the social network app on your Android or iOS device, log in to your account (if necessary) and press thelittle man (or the thumbnail of the profile) located at the bottom right.
In the screen that is shown to you, tap on the button Edit profile and type, in the text field next to the entry Username, the new username you want to use. To save the changes, press on the item end located at the top right.
From PC

To change your Instagram username from PC, connected to the login page to Instagram, or start the application for Windows 10 through its icon located in the menu Home di Windows. Once this is done, log into your account (if required) and click on thelittle man (or on the thumbnail of the profile) located at the top right.
Then click the button Edit profile located next to your current username and, on the page that is shown to you, type in the text field next to the item Username, the new username you intend to use from now on.
Finally, click on the blue button Send, to save the changes made to your profile.
Tips for success on Instagram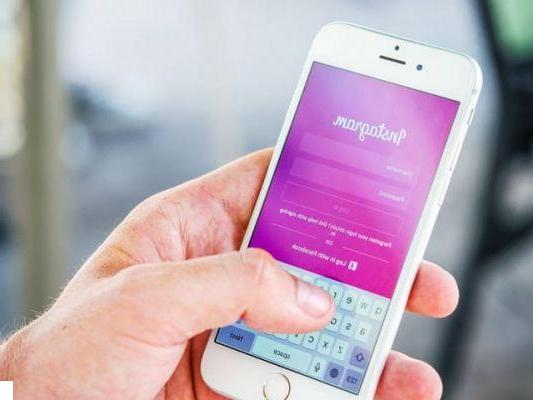 Of course, to be successful on Instagram, choosing a good username is not enough; you also need to know how to use the tools made available by the photographic social network in the right way, constantly publish interesting content and take care of your profile over time. In the following lines, you find some fundamental tips for success on Instagram: treasure it!
Post quality content and do it regularly - you should know, on Instagram the "eye wants its part", as they say. Therefore, it only publishes quality photos and videos that are free from rather obvious flaws. Another aspect you should pay attention to is regularity: if you post a photo every now and then, you will hardly be noticed by new potential followers. So set the goal of posting at least one content a day every day: users will feel compelled to visit your profile regularly.
Get inspiration from popular content - taking a look at the most popular content posted on Instagram can be very useful, especially if you have a sudden "creative block". In addition to using Instagram's internal search, also try Iconosquare (free for the first 14 days, then costs $ 29 per month), a service appreciated by "instagrammers" from all over the world, which allows you to have detailed statistics on your profile and on the general trends of the social network.
Create your own style - if you want to beat the "competition", that is the users who face the same issues on Instagram, you must be as original as possible and therefore create your own personal style. By doing this, your content will not run the risk of becoming anonymous and will be easily recognizable by your potential followers.
Use hashtags correctly - doing this is essential to have a few more chances of appearing in searches made by Instagram users. In this regard, you can use some free online service (such as Top Hashtag) or some ad hoc app to know the most popular hashtags at a given moment. But be careful not to overdo it: use only hashtags relevant to the content posted, or you risk "annoying" users.
Connect your social profiles to your account - by doing so, the photos and videos you post on Instagram will also be displayed on other social networks in the first place Facebook. As your content will have greater exposure, you will greatly increase the chances of increasing the number of followers on Instagram. In this regard, I suggest you read my tutorial on how to connect Instagram to Facebook.
Interact with users - if you limit yourself to liking the content posted by other users, you are not interacting with the Instagram community. Do you want to improve in this respect? Well, you can only do it one way: by leaving comments on posts that interest you. Obviously, in doing this, always respect the ideas of others, avoid arguing and use gentle and polite tones. Other users may notice your good behavior and the ideas you express in the comments and, why not, this could lead them to follow you. On top of that, make good use of live streams, polls and Stories to interact with those who are already your followers - they'll really appreciate it!
Would you like more information on how to be successful on Instagram? In that case, read the article I published on the subject: there you will find many other tips that may be useful to you.
How to call yourself on Instagram