Index:
Curate your Instagram profile
Get lots of followers
Contact companies to collaborate
Publish sponsored posts
Curate your Instagram profile
If you want to become an influencer and you have chosen to do so using Instagram as a platform, it seems clear to me that first of all you have to take care of your profile to the best of your ability, regularly publishing quality content.
In several of my other tutorials I have given you many tips on how to become famous on Instagram, tips concerning the use of Instagram itself and its most popular tools and which can be summarized in the following key points:
Biography, username and profile picture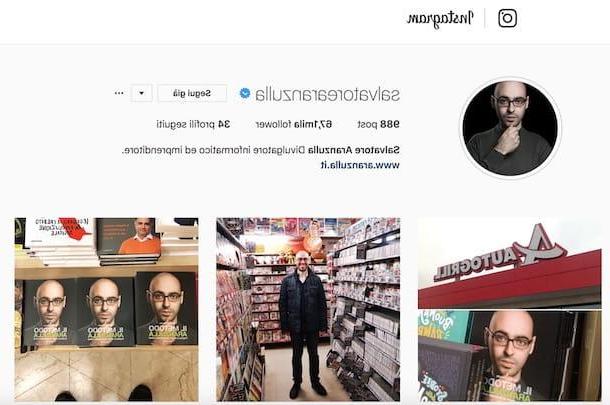 These elements are the first that are seen by users and companies, therefore you will have to upload an image that represents you for the profile photo and you will have to write an engaging bio.
Also take into consideration the possibility of inserting hashtags in the bio text field for your Instagram profile, so that people and / or companies can easily locate you by searching by hashtags.
As for the profile photo, it is essential to use a profile image that you depict yourself, perhaps a close-up shot that portrays you in an attractive way.
The name of your Instagram account is also very important as this will represent the name that will represent you within the social network and will be the one through which other users will search for you on the platform.
Posting content on your profile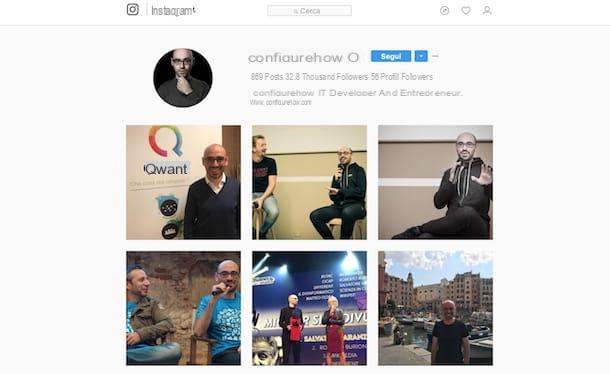 If your ultimate intent is to become an Instagram influencer, then you will have to start working hard on posting content to your profile. First identify the sector of reference and then begin to regularly publish quality photos.
In case you have chosen a reference sector in which there are already established personalities, then you will have to work on creating your own personal style in order to achieve popularity through the publication of original content.
You can choose to take photos with a professional camera or directly with your smartphone, then applying filters to the photo taken or performing photo retouching through photo editing programs or applications.
I gave you other more precise and targeted tips in my guide on how to have a beautiful Instagram profile and in the tutorial where I explain how to become famous on Instagram.

Get lots of followers

Once your Instagram profile is launched, you will need to work hard to reach a sizeable number of followers, so that you have the opportunity to show your value on the web to the companies you are interested in partnering with.
Since popularity does not come out of nowhere, it seems fair to give you some targeted advice on the strategies you can easily use to increase your follower pool within the social network.
Increase interactions with your posts by using hashtags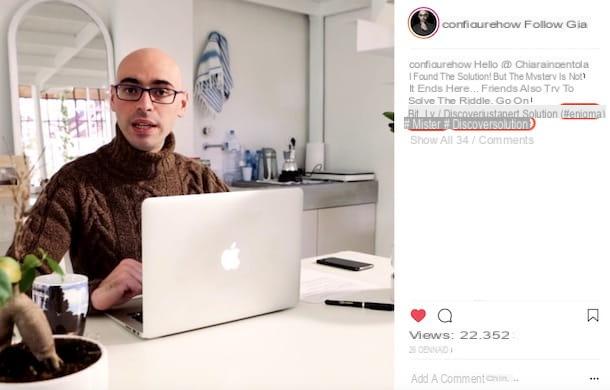 Instagram is a social network that is mainly based on visual content but, when you post a photo or video, you can make the public content get more interactions through hashtags.
Hashtags are nothing more than labels to categorize a published content. In one post on Instagram you can insert up to 30 hashtags in order to increase its visibility. In fact, people who use Instagram do searches by hashtag and will thus be able to view the post you published.
Using hashtags is therefore very important to reach your potential audience and to make them interact by commenting on the content you publish. The hashtags must be included in the description of the post and must be related to the subject or object present in the published image.
If you do not know which hashtags to insert, you can resort to the use of some online services such as Top Hashtag and All Hashtag and / or free applications that are able to indicate which are the most popular "labels" and which you can then use for the post published by you.
Comment, like and follow other users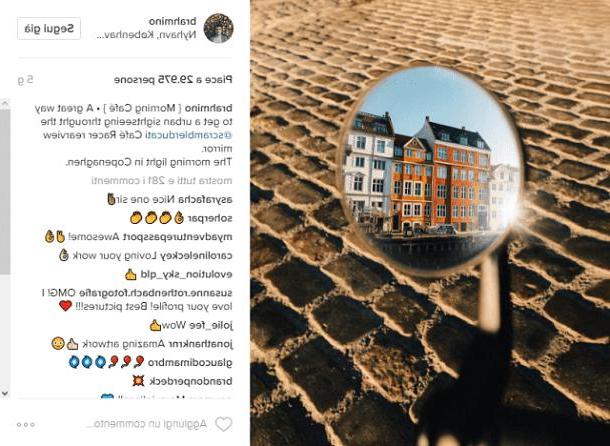 Another tip I want to give you is to interact with other users of the platform. Instagram is in fact a social network that favors interaction between users through the use of likes, comments and private messages.
You can also increase popularity by following other people on Instagram in such a way as to get noticed by users who have the same interests as you. Obviously the people you follow may not be interested in returning the follow but following other people is still a way to get noticed.
Also consider the possibility of interacting by liking and commenting on the posts of other users; especially use the comment function as this will allow you greater visibility.
Use Instagram stories and streams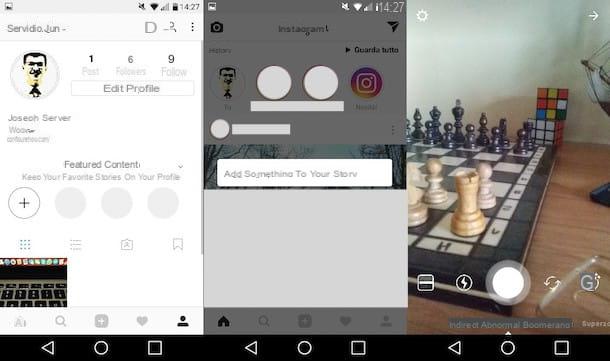 Another Instagram feature that you can take advantage of to increase your followers and thus take the path that will lead you to become an influencer in your field is related to the use of all the Instagram features including Stories and Directives.
Specifically, the Stories concern the publication of videos and images that you will need to tell about his day and in which you can insert mentions to other users and hashtags in order to obtain a greater reach.
The Stories but in particular, but also the direct, are an excellent Instagram tool that will allow you to improve the relationship with your users. Through these you can show yourself in real time and talk to the people who follow you about what your passions and interests are; in fact, it is a feature that can engage users.
Expand your audience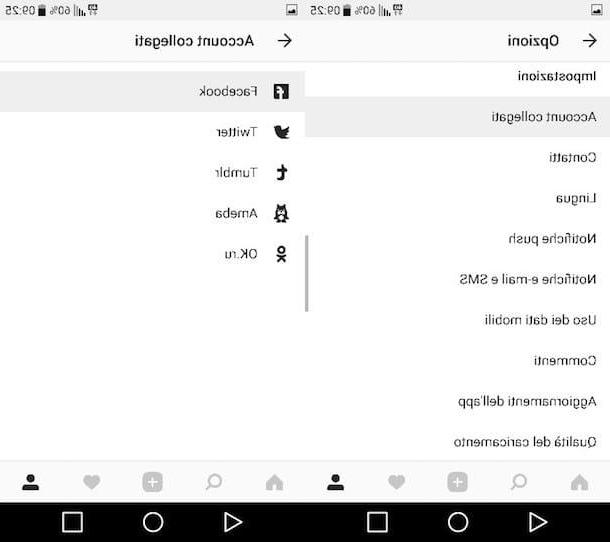 To become an influencer on Instagram you need a lot of followers and for this reason another tip I want to give you is to expand your audience by publishing Instagram content on other social networks such as Facebook.
In fact, the Instagram application gives you the possibility to share your content even within your Facebook page or profile. By acting in this way you can also reach your friends who are not yet subscribed to Instagram or who do not use this social network.
To do this you will need to connect your Instagram account to your Facebook profile or to your Facebook page: then tap the button with the little man symbol at the bottom right to view your Instagram profile then tap on the button with the gear symbol and tap on the wording Linked accounts.
Through this section you will have to tap on the button Facebook and then add your profile or your Facebook page. Through the section Linked accounts you can also link your Twitter or Tumblr profile.
By acting in this way you will have connected other social networks to Instagram but before publishing a photo on Instagram you will then have to manually authorize the sharing of the content on other social interaction platforms; you will find this setting in the preview screen for posting a photo or video on Instagram.
I told you in detail and more in-depth about the techniques to increase followers on Instagram in my guide dedicated to the topic. I recommend that you read it to find out more.

Contact companies to collaborate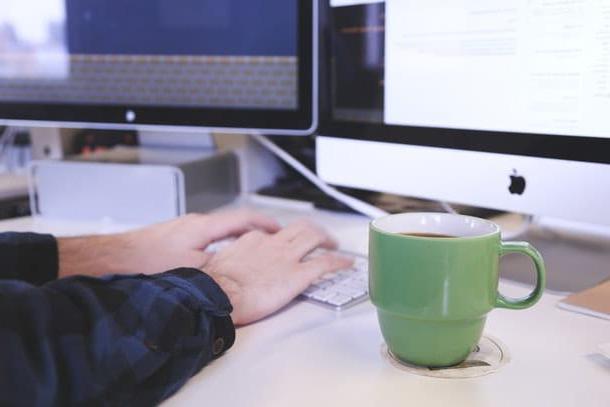 If you have followed all my tips on how to become an Influencer on Instagram I imagine that at this point you will have gotten a considerable number of followers. If this is the case, you can start privately contacting the companies you wish to collaborate with.
To do this, you can choose whether to contact these companies through their official website or through a direct message on Instagram indicating, in both cases, your willingness to start a commercial collaboration.

Publish sponsored posts
Before concluding this tutorial on how to become an Instagram influencer I would like to give you one last tip.
If you have achieved your goal and have been contacted by a company to start a collaboration, be transparent with your followers and indicate to them that the content you published was sponsored by a company: in the caption of the post then insert hashtags such as for instance #ad, #sp o #sponsored. I'm sure your followers will greatly appreciate your sincerity.
How to become an Instagram influencer