Have a nice Instagram profile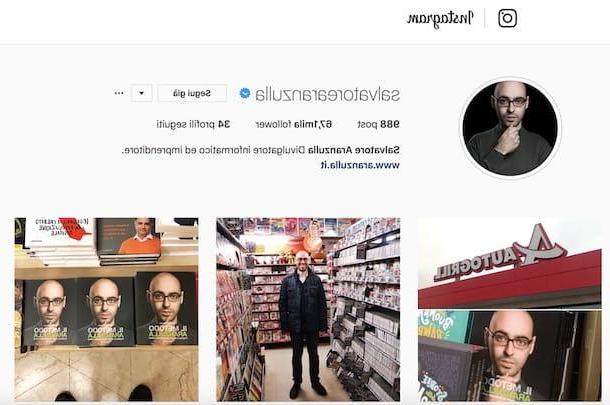 A first step for do collaborations on Instagram is to have a profile that is beautiful and constantly updated. It is not possible to think of being able to offer collaborations to companies if you have a poor profile and characterized by poor quality content. If you think your profile is not good enough, try the following "tips".
Use a name that fits your profile - the name you choose should be easy to remember, it must produce a beautiful sound from a phonetic point of view and, above all, it must reflect the general theme covered on your profile. If you want to adopt a personal branding strategy, it would be preferable to use the same names you already use on other social platforms. For more details on how to choose the name of the profile on Instagram, consult the tutorial I dedicated to the topic.
Choose an attractive profile photo - if you want to become an Instagram star, the choice of your profile photo should definitely not be left to chance. The social network community, in fact, will associate your face with your profile and the content you post: for this reason, choose a photo that is beautiful to look at (without defects) and that gives a good impression of you. If you want to have some specific advice on how to look good in photos, take a look at the article I just linked to and published on my blog.
Curate the profile biography - bio is one of the first things companies will notice when evaluating your profile. Therefore, take care of the form of the bio text and intelligently use all 150 characters available to express clearly and concisely who you are, what your interests are, what your profession is and possibly why companies they should be interested in working with you. It may also be useful to enter the email address you use for business purposes and to which companies may contact to contact you.
Would you like to learn more about the aspects related to having a nice Instagram profile? Read the guide I have dedicated to this topic: there you will find further ideas to improve the aesthetics of your profile.

Get lots of followers on Instagram

Get lots of followers is the second "requirement" that must be respected to make collaborations on Instagram. In fact, companies will decide to collaborate with you and give you a fee for the promotional activity you will do on the social network only if you are actually followed by a large number of users.
How many followers do you need to have? Well, it's a somewhat variable figure since every company follows its own criteria when deciding whether or not to collaborate with a user. One thing, however, is certain: the higher the number of people who follow your profile, the more likely you will be to impress brands and be able to start profitable collaborations with them.
But what if your Instagram account is currently followed by a few hundred people? Can you do anything to improve the situation? Of course! Try the following tips and you will see that if you work hard, you will achieve appreciable results over the months.
Post quality content and do it regularly - if you offer poor quality content or if you post a photo every now and then, you will hardly create a good following and it is even less likely that companies will decide to entrust you with the sponsorship of their products.
Create your own style - on Instagram the competition is really ruthless, so try to be as original as possible by creating your own personal style to avoid remaining anonymous.
Use popular hashtags that are relevant to the content you post - doing so will make you more likely to appear in searches made by Instagram users. Not sure which are the most popular hashtags of the moment? Use online services (such as Top Hashtag and Websta) and free applications that allow you to grasp this kind of information and then use the hashtags that best suit your posts (and not just the most popular ones).
Engage users - make good use of live broadcasts, polls and Stories to interact and engage users of the Instagram community: users love to express their opinion when they follow a live stream or when they participate in a survey, so don't neglect the use of these useful tools. Understood?
Don't get followers artificially - companies are interested in the number of followers who are actually active on your profile (who comment and interact with the contents) and not in the mere numerical figure next to the "Followers" item of your profile. Therefore, if you give in to the temptation to buy followers artificially, you risk "shooting yourself in the foot": the followers you will eventually get will be fake, you will have a low number of interactions and, consequently, companies will be careful not to collaborate with you.
If you want to have other useful tips to have many followers on Instagram, read the tutorial I published on the subject. I am sure you will appreciate this further study as well.

Collaborate on Instagram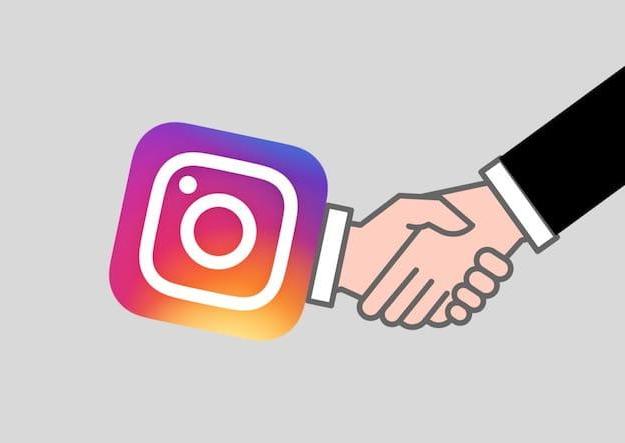 After making sure you are eligible for the do collaborations on Instagram, the time has come to understand how you can take advantage of the popularity you have hard earned on the photo social network. In short, you will need to contact companies that could potentially be interested in working with you, offer them a collaboration and, after reaching a common agreement, post the contents for which you will receive the agreed compensation.
Why should companies be interested in you? It is very simple, as a matter of visibility: you advertise their product, your followers view the photos and videos posted by you in which the product is present and a small percentage of your followers may be inclined to buy it (since directly or indirectly you recommended it). Consequently, you are paid by the company for the work you have done in promoting the product on social networks and, the benefit that the latter obtains is that of greater visibility given by the content you have posted on your profile. Let's take a closer look at how you can get in touch with companies.

Contact companies and brands to collaborate with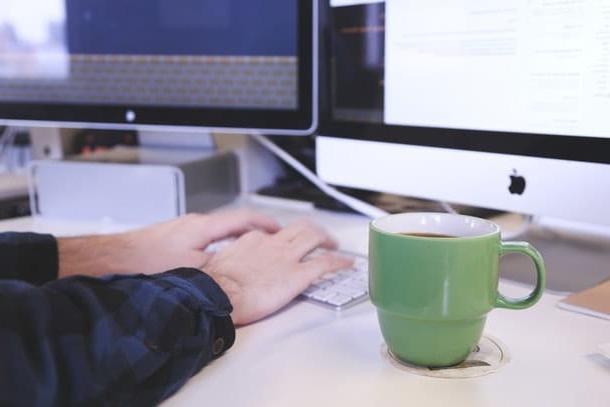 How can you find companies and brands to collaborate with? You can try to search directly on Instagram: type the name of a brand or company you would like to collaborate with, follow his profile and then send him a direct message in which you express your desire to start a commercial collaboration . Alternatively, try to contact the company via email: if the email address dedicated to collaborations is not indicated on the profile of the same, try to consult the contact page on its official website.
After identifying some companies to collaborate with, you can move on to the next step: send the message in which you propose the collaboration. If you run out of ideas, you can get inspired by the following example message.
To the attention of [nome dell'azienda],
Hello I'm [nome and cognome] and I follow your Instagram account with great pleasure: your content and your products are really interesting, which led me to make you the following proposal.
I am the owner of the account [link of your Instagram account] which matters [number of people who follow your account] followers and, as you can see, deals with issues related to your products and services. I am sure that my followers may be interested in your products and I would like to introduce them to them more closely.
If you are interested in such a collaboration relationship, you can contact me using one of the following channels.
E-mail: [indirizzo lavorativa email].
Cell .: [number of cellulare].
Phone: [phone number].
Skype [call me Skype].
Looking forward to hearing from you soon, I offer you my greetings.
Company [nome and cognome].
If your profile is followed by a lot of people and the content you've posted so far is interesting, there's a good chance the companies you've contacted are interested in partnering with you.
adMingle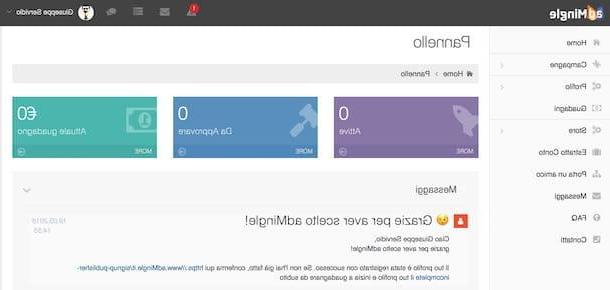 Have the companies you contacted so far not listened to you? Well, it can happen. But instead of losing heart, get busy contacting others. In the meantime you are waiting for their answer, try to contact some services of social advertising network, which allow you to get in touch with companies and try to make money on Instagram (and other social networks) through collaborations.
One of the most popular social advertising services is adMingle. Using it is really simple: just register, accept one of the social campaigns that are proposed and try to make money. If you want to contact this service (also available as an app for Android and iOS), connected to its home page, click on the blue button SUBSCRIBE (located at the top right) and, on the page that opens, click on the brown button Connect with Instagram and follow the instructions that appear on the screen to link your Instagram profile to the adMingle account.
Then fill out the form you see on the screen by entering all the required information (eg. name, last name, e-mail, Password, etc.), select your gender and interests, tick (✓) next to the items I accept the terms of the contract e I confirm the privacy disclaimer and click sul pulsating Subscribe to complete the procedure. Within a few minutes you will receive an email to the email address you provided earlier: click on the link contained within it in order to confirm your account.
As soon as a campaign suitable for your profile is available (assessments are made based on your age, your interests, your gender, etc.), adMingle will send you a notification via email and on Control Panel of your account. You can then choose whether to approve the campaign and participate in it or whether to reject it. If you decide to participate, you will have to accept not only the guidelines provided to Mingle, but also the indications provided by the brand with which you have decided to collaborate.
You will then be able to receive payments for your campaigns upon reaching the minimum threshold of 50 euros (you can always view earnings from Control Panel adMingle by clicking the button Earnings) and receive the compensation by bank transfer or by crediting the PayPal account.
Post content resulting from collaborations
When you decide to post content that is the result of a collaboration, respect the users who follow you on Instagram by indicating that it is a sponsored post. By doing so, you will not lose the trust of your followers and earn their respect. How can you highlight the presence of sponsored content? Simple, by inserting one of the following hashtags in the post: #ad, #sp o #sponsored.
How to collaborate on Instagram